The Auker-Seminick SABR chapter of Central Florida was founded in 1995 by Jim Riley of Rockledge, FL. Riley would later serve a term as President of SABR. The chapter's first meeting was held at the ballpark in Viera, FL. At the time the park was the spring training home of the Florida Marlins.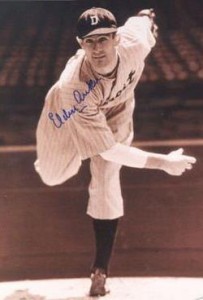 Riley recruited two former major league players to become part the chapter, Elden Auker and Andy Seminick. Both men were regulars at various chapter functions.
Auker started his professional career pitching for the Detroit Tigers in 1933 and stayed with the team through 1938. He was then traded to the Boston Red Sox for the 1939 season and then spent two years with the St. Louis Browns. Auker related many of his experiences with baseball greats like; Babe Ruth, Ted Williams, Jim Foxx, and Joe Cronin. He wrote a book about his experiences, titled "Sleeper Cars and Flannel Uniforms".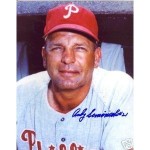 Seminick completed the chapter's battery and is best known for being the catcher on the 1950 Philadelphia "Whiz Kids" Phillies. He played for the Phillies from 1943 through 1951 and again from 1955 to 1957. He also spent four years with the Cincinnati Reds from 1952 to 1955. Seminick was known as a tough individual, playing the 1950 World Series with a broken bone in one of his legs. He remained in the Phillie organization after his playing days as a minor manager, major league coach, and scout.
After Jim Riley moved to Atlanta, Gene Brock assumed the duties of chapter head and regularly held meetings in Vero Beach, Orlando, and at Tropicana Field in St Petersburg. Brock stepped down as chapter head as Rod Caborn and Dave Larson became co-chair of the chapter in 2010. The chapter has since held regular meetings in Orlando, Kissimmee, Lakeland, and at Tropicana Field. Usually meeting twice a year, once in the spring and then again in the fall.
Over the years the chapter has had many notables from the baseball community as special guests at chapter meetings. Former commissioner Fay Vincent led some meetings, providing insight to the inner-workings of the major leagues. Danny Ozark, Ron Perranowski, and Ralph Branca were regulars at meetings in Vero Beach at DodgerTown. Retired umpire John Schulock was also a special guest.
Other special guests throughout the state have included former Washington Senator and Minnesota Twins owner Calvin Griffith, Don Zimmer, Devil Rays manager Larry Rothschild, and Rays broadcaster Dewayne Statts. Recently former Washington Nationals and Cleveland Indian manager Manny Acta has been a featured guest.
Many of the chapter regulars have made presentations on their projects; one prolific regular is award winning Bob Schaefer. Schaefer has talked on many subjects from the changes in equipment like balls and bats to baseball's .400 hitters.
Numerous authors have talked about their latest projects. One of the chapter regulars is Peter Golenbock. Golenbock has written numerous books and baseball and told many great stories about the Yankees. And even played a tape of a fascinating and colorful interview he did with Ted Williams.
Orlando Magic co-founder Pat Williams, who once played minor league baseball under Andy Seminick presented a book he wrote on Bill Veeck. Dr. Susan Dellinger talked about her grandfather, Hall of Famer, Edd Roush. She had many of the his personal effects to show the group.
Carol McKechnie Montgomery presented her book on her father, Hall of Famer, Bill McKechnie. Roy Kerr has presented several of his books on 19th century greats; Sliding Billy Hamilton, Roger Conner, Buck Ewing, and Big Dan Brouthers.
Mitchell Stinson, Brett Friedlander, Russ Schneider, George Gedda, and Mark Stang are a just a few of the authors who have also presented their work. Trivia contests and group discussions have also been a regular part of chapter meetings. The group has also taken in Rays games while at Tropicana Field and a spring training game in Lakeland.